In talks to star in the film from writer-director Audrey Wells
Oct 22, 2008, 01:00 AM ET
Naomi Watts is in negotiations to topline "My Name Is Jody Williams," a Universal drama that Audrey Wells is attached to direct.

Thomson Unveils HD AVC Encoding for Blu-ray Format
Thomson has introduced the NexCode HD AVC Encoder, a new encoding system that provides compression tools to create content on the high-definition Blu-ray Disc format using the AVC (H.264 MPEG-4) codec.
The encoder, designed for post-production facilities working on HDTV projects, comes with a variety of AVC encoding tools, including compression and authoring features. It incorporates numerous capabilities into a single unit, such as automatic artifact correction, novel bit-rate control, and re-encoding parameter pre-set configurations.

The NexCode HD AVC Encoder features a built-in video player with configurable split-screen modes, allowing users to visually compare a scene before and after each step in the encoding process. The device also offers adjustable re-encoding parameters that allow customized scene-by-scene and frame-by-frame processing.

The encoder is also equipped with Thomson's renowned Film Grain Technology, which allows flexible film-grain adjustments. For dual-format projects, NexCode enables a single encode to be used for the creation of both Blu-ray-compliant bit streams.

The device leverages proprietary algorithms, which not only automatically detect and correct encoding artifacts but also preserve and improve the visual quality during ingestion. NexCode's hardware configuration includes an encoding workstation and an optimized PC cluster architecture. The PC cluster and the storage space can be scaled to meet customers' business requirements.

Abel Cine Tech Offers Unique HD POV Lens
Hitachi has significantly improved the internal processing of its SK-HD1000 high-definition studio and field production camera. Among the upgrades is a 60dB HD signal-to-noise ratio at F10 and a resolution of 1,100 horizontal TV lines.
The company said these specs translate into the cleanest, sharpest digital processing HDTV camera picture on the market in its price range. The camera also comes with new functions, control panels, CCUs, and other production accessories.

Starting with its latest-generation of high-dynamic-range RGB 2/3-inch progressive CCDs, each with 2.2 million pixels, the camera implements 14-bit A-to-D converters and a digital signal processor to transparently display the captured image. The company said new digital circuits help achieve exceptional depth of modulation, tonal reproduction and highlight-handling characteristics,

A 12-vector masking system allows control of hue and saturation to tailor color reproduction to EBU, SMPTE or any other color standard for HD and SD separately. The two-memory flesh-tone detail adjustment has automatic hue and saturation adjustment that make implementing the function a snap, on-air or off. 

Optical and electronic color-correction filters work in conjunction with eight scene files that store all functions' status and video adjustments, providing users with white balance pre-sets for 16 different shooting situations. A control provides fine adjustment of the gamma curve and colors in the darkest potions of the picture, allowing film-like image capture.

The new CCU design model CU-HD1000 provides the choice of fiber, digital triax/coax transmission, and an optional cross-converter to make 720p out of 1080i and embedded digital audio in the HD-SDI outputs. The CCU can accept a front-mounted control panel and uses a full 4 RU high EIA 19-inch rackmount and blank panel since the unit is only a half-rack wide. 

The SK-HD1000 in studio configuration (with fiber-optic transmission) lists for $53,000, without lens.

For more information, visit http://www.hitachikokusai.us.
Mini35 Digital adapter from P+S Technik
. This already works with the popular Sony PD-150/VX-2000 and Canon XL1 models. Versions for Digital Betacam and HDCAM cameras are also in development.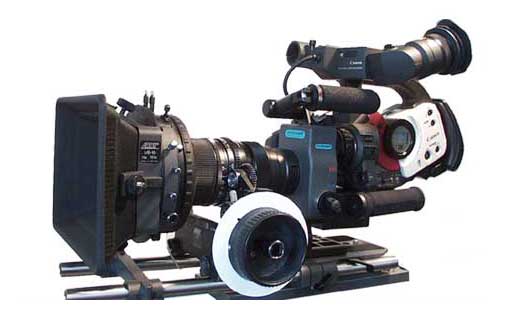 Film lenses are designed to project a 35mm image, which is huge compared to the size of a video CCD (some seven times than of the one-third inch chips used on the XL2 and PD-170). "If you project it directly on to the CCD, you only use a small fraction of the middle of the 35mm image. You change the angle of the lens. A standard lens becomes a telephoto lens, so you never get the 35mm feeling. With this it stays exactly the same," explains freelance cameraman, Ben Gabel.
"This is a problem with even HD, because it never has the same depth of field as 35mm has, because this is connected to the physical size of the image," he says.
However, the Mini35 Digital gives excellent depth of field. "We do it by projecting the image on to a little screen, exactly the same size as the 35mm negative. Then we lead it through a block of prisms and a second lens on to the CCD," he explains. Although it is simple, no one has done it before.
There are, however, some optical problems. The 35mm screen is made of ground glass, which would add grain to the image, except that P+S Technik rotates the screen at about 800 revolutions per minute, so that it becomes a "very smooth vertical surface," he says.
"It is one of the pains of videography that you want to make it look like film so much. I, as a cameraman, helped to start the project because I couldn't stand the video look any more," he says.
It is not necessary to use expensive cinematic prime lenses, as the system can also use photo mount lenses such as Canon or Nikon as well as Panavision or other film lenses. The adapter also has two adjustable handgrips to facilitate hand-held use.
He believes DV can produce a more film-like image than HD, because "it gives a softer, warmer look than the sharpness of HD."
Other company that produced DV Look Like Film are Redrockmicro with M2 Micro 35 Adapter.
Panasonic Unveils Shoulder-Mount AVCHD Camcorder
Panasonic announced the industry's first shoulder-mount camcorder that uses H.264-based Advanced Video Codec High Definition (AVCHD) compression to record 1080i images onto industry-standard SD/SDHC memory cards.
The AVCHD format records video as digital data files at twice the recording efficiency of MPEG-2 codec technologies like HDV, according to Panasonic, and is supported by such nonlinear editing packages as Apple's Final Cut Pro (Version 6.0.1) and iMovie, Grass Valley EDIUS Software (Version 4.5), Pinnacle Studio Plus 11, Nero 7 Premium Reloaded, Ulead Video Studio 11 Plus and Ulead DVD Movie Factory 6 Plus.

The new AG-HMC70 features three native 16:9 progressive ¼-inch CCDs to record, or provide a live feed of, widescreen 1440 x 1080 HD images. The camcorder is equipped with a 12X 38.5mm-462mm Leica wide-angle zoom lens, auto focus, and optical image stabilization. There's also a 3-inch 16:9 LCD monitor.

Users have a choice of three recording modes – 6Mbps, 9Mbps or 13Mbps. Using a 16 GB SDHC memory card (available this month), the HMC70 can record for up to 360 minutes at 6 Mbps quality and up to 160 minutes at 13 Mbps. You can also capture 2.1-megapixel still images with the camcorder onto the SDHC memory card—even during video recording.

The SD card content can be played back directly on flat-screen displays, front- and rear-screen projectors, and PCs that offer an SD card slot with AVCHD decoder software. AVCHD content also can be played back on the Panasonic DMP-BD10AK Blu-ray Disc Player and on the PlayStation 3 game system.

For audio, the HMC70 offers two XLR Mic/Line switchable inputs with attenuation, +48V phantom power, and both auto and manual level with rec level dials. This allows high-quality audio recording using a wide variety of microphones and mixers.

Users can transfer content from the HMC70 camcorder to Mac or PC computers with an SD/SDHC card reader or by connecting the camcorder directly via its USB 2.0 interface. Other connectors that provide even greater flexibility include HD/SD component and composite (BNCs), HDMI and RCA audio jacks.

The HMC70 will be available in April 2008 and is expected to sell for less than $2,000.
Schneider Offers Lens Adapters for Sony PMW-EX1
Schneider Optics unveiled a new line of Century HD lens accessories for Sony's PMW-EX1 camcorder, which records on two solid-state compact flash cards. The new optical attachments extend the focal capabilities of the camera's fixed lens.
Available in March, there's a new .6X HD wide-angle adapter, .75X HD wide-angle converter, 1.6X HD tele-converter, super fisheye HD adapter, and an extreme fisheye HD adapter. Each one is equipped with a bayonet mount for quick and easy installation and removal from the front of the camera lens.

The new Century Pro Series HD lens accessories produce pristine images with low distortion and superior contrast edge to edge. Multi-coated glass elements provide sharp images without distortion or chromatic aberration.

U.S. MSRP starts at $490.00.
New P2 Mobile Offers Extended Record/Playback in the Field
Panasonic has upgraded its portable P2 solid-state recorder/player with a number of new features that make it more versatile for on-location HD production. The new AJ-HPM110 unit adds cost-effective native 1080/24p recording, a 1080/24PsF input/output and longer record times to the capabilities of its predecessor, the AJ-HPM100.
It can now record 24 frames natively. In this mode, only the active frames (23.98 psf and 24 psf) are recorded, not the pull-down. This provides more than two times the capacity you'd normally get on a P2 card. Steve Cooperman, P2 Systems product manager, said it means that if you're recording in 720/24p HD mode, six 32 GB P2 cards will give you eight hours of record time on a $12,000 device. The company also offers an optional AVC Intra 100 card (AJ-YBX200G codec board for $3,000), which allows a user to record four hours of 10-bit 1920x1080 recording, on six 32GB cards. And this can be used with any camera outputting a 1080p/24 signal.

The new P2 Mobile unit also offers PSF input and outputs, allowing those using an HD camera with a 23.98 PSF output to record into the unit. There's also a pull-down removal function, so you can play back content that was recorded in native 1080 23.98 p as 1080 23.98/24 psf on playout.

The AJ-HPM110 also offers instant playback of variable frame rates for viewing in the field. The unit records independent-frame DVCPRO HD/50/25 and DV formats as well as offering up/down/cross and aspect conversion.

The HPM110's six P2 card slots allow users to record continuous, extended clips in sequence onto P2 cards or to output an extended play-list from five mounted cards to the sixth card slot.